[Q1] What drew you to record this project?

Well, two or three years ago, Steven Cerra approached me and shared his desire to produce a CD with my trio playing the music of Michel Petrucciani. At first, I found it a little odd, since I thought that the angle of a French pianist playing another French pianist would be a little "corny", but as soon as I started listening back to Michel's music more carefully, I soon realized that this project wouldn't just be a major musical endeavor, but a personal challenge of high end musicality and sophistication. I started working on the arrangements, trying to tie my own musical sensitivity to Michel's own, and I got excited pretty quickly. Several things happened beyond our control, and we lost our financing. The project was then cancelled, and right at that time, Vic Lewis, my English friend came up with the idea of recording Jule Styne's music and convinced me to put it out under my own jazz label: WilderJazz. Hence "Styne & Mine" my last trio CD. This CD went up to number 3 on the national jazz radio charts, and people went mad about it (just read the reviews: http://www.cdbaby.com/cd/christianjacob ) I was then excited to put out my next trio recording, and went back to the idea of recording Michel Petrucciani.

[Q2] Your last trio CD was centered on the music of Jule Styne, and now Petrucciani, don't you think that recording a CD of music most people are unfamiliar with will make it harder for you to connect with your audience?

Well, within an audience, people connect for different reasons. Enjoying music only when you already know the melody is a pretty limited way of enjoying music. Of course, everybody relates better to what he already knows, but music is made up of elements everybody has heard before, and if sometimes there comes an element never heard before, it should be taken as a great gift. In "Contradictions" I think people will hear a musical essence that will draw them to want to hear more. This is not some simplistic, 2nd grader type of music (which is how I categorize today's main stream music), but on the other hand, this is in no way mysterious and inaccessible music, the soul of this recording is very young at heart.

[Q3] I understand that you guys had started working on Petrucciani's music a few years ago and then put the project on hold until now. Since you have been able to 'live with' Michel's tunes for a couple of years, was this helpful to you when it came time to record them?

When I compose or arrange something, I always feel the time comes when I have to "sleep on it". I always have been aware of the importance for the conscious mind to get into a listening mode with the subconscious mind. So, to me, this is the same principle on a larger scale. I think it is a great thing. Nowadays, time is such a luxury, that it is great when it is given to you.

[Q4] What do you find that's different to your ears about Michel's tunes; what makes them interesting to play on?

I feel very close to Michel's compositions; to a point where I almost hear the spark that started the whole writing process. A composition usually starts with an initial hunch that develops into an actual composition. The hunch being a specific idea: a loop, a melodic tidbit, a harmonic tension or succession that rocks your boat, an improvisational springboard, or any basic idea (melodic, harmonic or rhythmic) that attracts you.
Michel never used the same hunch twice. He was a complete musician with a vast pool of creative knowledge to draw from.

[Q5] Michel played the tunes on this recording with a variety of rhythm sections, but he never recorded all of them with the same bassist and drummer. Do you think that using the same rhythm section for all these compositions creates a unifying presence in the way his music sounds?

Absolutely! Presenting any work with the same group of musicians will always blend it. This is neither a good thing nor a bad thing, it is just a fact.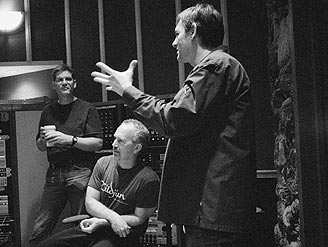 [Q6] Christian: did Michel's music evoke any kind of French or Gallic 'sensibilities' in you as you were playing them or, in other words, strike a responsive cultural chord with you?
Maybe; I recognize the strike as being a musical one. It is possible that my French upbringing is part of it, but it would be more into my subconscious. I don't separate my own musical world into categories, this is a whole for me, I just know I feel close to it…
[Q7] How did the arrangements for each of the selected Michel tunes come about? Were any changes made to the original song structures, if so, why?
I first chose the songs that were "closer" to me, songs that I musically related to; then I felt secure about modifying them (to a certain extent). All modifications were made to power my own communicating power on the piano. In music, there is really no ownership (even though legal music protection companies like BMI, ASCAP, etc. make their business on the fact that it does). Think of it as colors, who owns that special shade of green? When I play, it is for my own enjoyment first; I'd rather change a note if it augments my joy than forbid myself to do it. I will forbid myself to go somewhere if it takes away from the main intention of the composition. In other word, I allow myself to change what I believe would make him turn his head, smile, and say: ahhhhh, I love this!…
[Q8] Jazz critic Stephen Cook has noted that "… Michel Petrucciani weaves myriad textures, rhythms and styles … producing work that sounds both complex and seamless." Is this how Michel's music sounds to you?
I think this is a beautiful description. I think that this describes pretty well what attracts me: A mix of intense knowledge rolled back into simplicity.
[Q9] Was there any track in particular that you found the most challenging?
The point of this CD is to have "The Christian Jacob Trio" play the music of Michel Petrucciani. This means 3 individuals playing a composer. "Looking Up" was definitely the most challenging, the reason being that I listened to Michel's version the day before recording in studio. While recording, I suddenly felt unsure; almost if suddenly I was competing… it took a lot of takes for me to exhaust myself and finally play it the way Christian Jacob should play it…
[Q10] Besides a greater familiarity with Michel's music and the trio's interpretation of it, what are you hoping your listeners relate to after hearing this CD?
You know… That deep and intense sense of joy you get when you hear music that you love. That's why I'm here playing, trying to create it as much as I can, and I want everybody to feel it as intensely as I do.
[Q11] How do you get to the almost mystical point of knowing when something you've recorded is "a take?" Is it always easy to identify one recorded track over another as the 'best' or 'master' take?
Well, it always ends up being the overall feel that counts. If the take grooves, builds up naturally and ends with a feeling that a statement was made: that is the take, there is no need to try another one… Sometimes, my ego wants to try another take, usually because I wish that my solo took a different route, but this is purely personal (like wishing you had said something with different words). Every time this happens and I beg to try another take (in order to regain control of my solo) the new take never measures up to the first one and I always end up choosing the first one.