[Q1] What drew you to record this project?
This project, for me, was another chance to play and record with my favorite musicians. As a project, it seems to be a natural progression from our previous trio CD "Styne & Mine". "Contradictions" continues the musical sensibilities and explorations established on that previous CD and expands them even farther.
And then there's Michel's music....it's very inspirational. This CD was a great challenge, and very rewarding experience...and I get to play with Christian and Trey...did I mention that?
[Q2] Your last trio CD was centered on the music of Jule Styne, and now Petrucciani, don't you think that recording a CD of music most people are unfamiliar with will make it harder for you to connect with your audience?
Petrucciani's music is the perfect vehicle for this trio. I think our audience appreciates the level of communication and musicianship with which we interact as a trio. Michel's compositions, although very challenging, allow the trio to really stretch musically, and that musical interplay and desire to serve the essence of these songs is what makes these beautiful compositions accessible and fun for our audience. I think the audience will hear how much fun the trio is having in the studio, but they will also hear the reverence that we share for this great music, even if the songs are unfamiliar to them.
[Q3] I understand that you guys had started working on Petrucciani's music a few years ago and then put the project on hold until now. Since you have been able to 'live with' Michel's tunes for a couple of years, was this helpful to you when it came time to record them?
We did briefly explore some of Michel's compositions a few years ago, but we put them away and really never revisited them again until we started rehearsing for this CD, so, needless to say, everything was very "fresh"!
Christian had a basic idea of how he wanted to approach most of these tunes, but everyone was open to exploring different approaches, different arrangements, different tempos.... I was not really familiar with Michel's music, so I just dove in with an open mind and a sincere desire to serve the music and support the other two musicians in the trio. Every song was a new experience for me.
[Q4] What do you find that's different to your ears about Michel's tunes; what makes them interesting to play on?
Michel's compositions are never predictable. He has a way of writing that seems through-composed, with unequal length phrases and deceptive harmonic structure, and yet the songs seem effortless and beautiful. They shine with intelligence, yet never seem contrived. Sections of the tune are not clearly delineated, and they seem to melt together seamlessly. The compositions are, at times, deceptively simple, yet incredibly difficult to perform, and always effective and thought-provoking.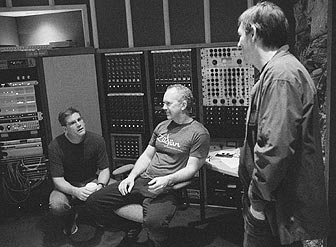 [Q5] Michel played the tunes on this recording with a variety of rhythm sections, but he never recorded all of them with the same bassist and drummer. Do you think that using the same rhythm section for all these compositions creates a unifying presence in the way his music sounds?
Sure. By nature of the fact that we've been playing together as a trio for well over a decade, I think that the essence of our interplay, founded upon our familiarity with each other as musicians, exists as the unifying presence. We have our sound. We share a musical sensibility, and that sensibility is conveyed to the listener. I think our musical sense unifies all the compositions on the CD.
[Q6] How did the arrangements for each of the selected Michel tunes come about? Were any changes made to the original song structures, if so, why?
Christian, having been familiar with Michel's music, had a sense of how we should approach most of these tunes. The approach was not to copy Michel's version, but to pay homage to Michel in our own way, with our unique approach to his music. The basic song structure was not usually altered, but the arrangements went through many permutations. Solo orders, solo forms, tempos, feel....everything was open to experimentation.
[Q7] Jazz critic Stephen Cook has noted that ". Michel Petrucciani weaves myriad textures, rhythms and styles. Producing work that sounds both complex and seamless." Is this how Michel's music sounds to you?
Yes. It is segmented, yet seamless. Simple, but complex. In its rhythm, harmony and melody, it is truly world music. Michel's music sounds like a French impressionist painting.
[Q8] Was there any track in particular that you found the most challenging?
No. They were ALL challenging!
[Q9] Besides a greater familiarity with Michel's music and the trio's interpretation of it, what are you hoping your listeners relate to after hearing this CD?
I hope we convey to the listener the beauty and joy inherent within this music, and the absolute joy, fear, pain, disgust, humor, angst, sorrow, and elation we feel while recording these performances! I hope the listener hears how much we love this music and how much we love playing together.
[Q10] How do you get to the almost mystical point of knowing when something you've recorded is "a take?" Is it always easy to identify one recorded track over another as the 'best' or 'master' take?
It's not often easy to identify what makes a particular take "magical", but it is often fairly easy to identify when the magic is present within a particular take. Sometimes you know that a track is magical while the last note is still ringing during the recording, and sometimes a track's magic reveals itself to you days later upon a subsequent listening. It is very mystical. We often choose a track that may have some imperfections in the performance, but the overall trio performance is magical. Sometimes the imperfections create magic. I regret that the CD listener can't hear every take we have for a particular song, each one unique and special. And some of them just plain don't work! I hope we've made the best choices for the tracks on this CD!